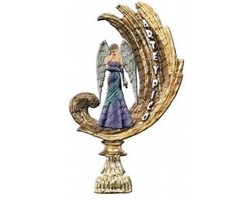 This is the
Arte Y Pico
award, and according to
Carrie's post
, it translates to: Wow. The Best Art. Over the top!
I suppose I really should thank all the little people. Oh, that's right, there are no little people in my life. ClayGuy's taller than me. The Comedian isn't far behind. Carrie's not littler than me (except in circumference). So thank you, Carrie!
And yes, there are some rules attached to this lovely award. Since it's Friday, I'll follow the rules. I'm in a good mood.
#1 Choose 5 blogs that you consider deserving of this award based on creativity, design, interesting material, and overall contribution to the blogger community, regardless of the language.
#2 Post the name of the author and a link to his or her blog by so everyone can view it.
#3 Each award winner has to show the award and put the name and link to the blog that has given her or him the award.
#4 The award winner and the presenter should post the link of the
Arte Y Pico blog
, so everyone will know the origin of this award. Ironically, I had to go back to the previous 8 presenters to locate a link to the original site. I was getting a little concerned that this rule was going to occupy WAY too much of my morning.
#5 Please post these rules.
I could pick many more than five, but I'll behave, so here are my five:
LingoVise at
Tin Can Canoe
- She comes up with fun, quirky, off-the-wall stuff. Always interesting to see what's happening over there. Her design? Well, kitschy, of course.
Heather at
Sprittibee
- If ever there were someone who has much to offer the blogosphere, it's Heather. She's always sharing all kinds of great linky love and useful information. And her little bee is so cute. And she offers some lovely photographs.
Robert at
Thoughts of a Father
- His photography is just beautiful and such a joy to view. He gets the shots I wish I had. Always an interesting read in between the photos as well. And if you haven't seen his adorable daughter, Lily, you're missing out.
Michelle at
Scribbit
- I love the simplicity of Michele's site. Her posts are exceptional. I'm sure she'll enjoy getting an award from someone she hardly knows. Hopefully she doesn't think I'm a stalker.
Donna at
Quiet Life
- Yet again, one who doesn't particularly know me, but I'm going to award her anyway. She's a photographer extraordinaire. Of course, that's what she does. Professionally. She's also very creative in her writing. Another must-read/view.